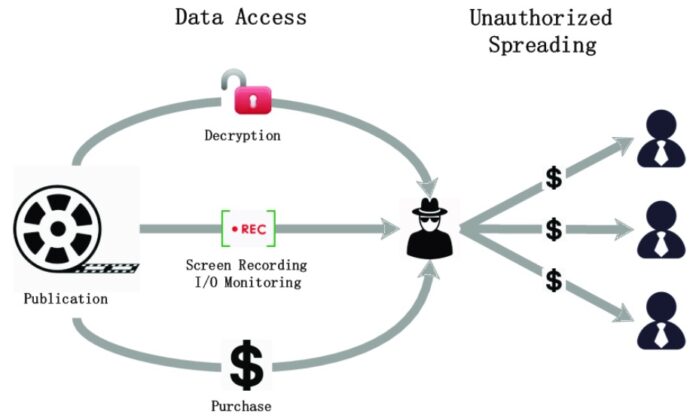 Traditionally, over-the-top (OTT) platforms such as Netflix and Amazon Prime have relied on digital rights management (DRM) technology to prevent users from illegally downloading premium video material. It offers over-the-top (OTT) services the ability to manage users, employ encryption in the AES format, and break video files into blocks of material to avoid piracy. However, the ecosystem that supports piracy has become more developed over time, and despite the best efforts of those involved, some premium HD content continues to be pirated and used by unauthorised people.
Hackers take advantage of the digital-analog duality in a DRM video protection, particularly at the client end, where each piece of video content needs to be encrypted and delivered as an analogue signal for viewing. Hackers try to intercept this uninterrupted stream of data by inserting complex code at this point in order to get access.
Hollywood's major studios are understandably concerned about this development since it could result in a loss of millions of dollars in revenue from the sale of their pricey and professionally produced film content. This vulnerability has been addressed by the digital rights management industry, which has included video watermarking as an additional tool in its arsenal of security measures in an effort to close the gap that it has discovered. This is an advanced feature that embeds sets of non-intrusive characters or codes into video frames. These characters or codes are not observable by the naked eye, nor are they easily identifiable by recording software.
The process of forensic watermarking is comprised of the following four components: (a) a message that includes copyright or ownership information and that is incorporated in (b) the host signal or video frame in conjunction with (c) a secret watermarking key to produce (d) a watermarked video frame. Even if the combinations of frames from the original video file are subjected to changes in resolution, transcoding, copying, or distribution, the copyright message should be able to remain intact throughout the entire life-cycle of the video frame in a robust forensic watermarking framework. This is necessary for the message to be considered valid.
The most important Hollywood studios expect OTT platforms to not only implement multi-DRM features to control piracy but also top it up with a powerful forensic-watermarking option. This will allow the studios' anti-piracy teams to easily detect how and from which users their premium content is leaked. Popular multi-DRM SaaS suppliers therefore combine the multi-DRM video protection function with the forensic-watermarking option in a single workflow to assist OTT platforms in meeting the requirements outlined by Hollywood studios.