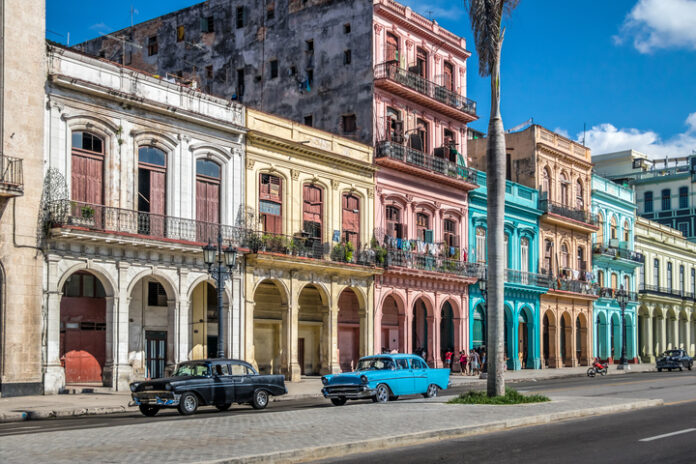 Havana, the capital city of Cuba, is a destination that promises an unforgettable travel experience. Known for its rich history, colorful culture, vintage cars, and lively music scene, Havana is a city.
Old Havana :
Old Havana, or Habana Vieja, is a UNESCO World Heritage Site and a must-visit for anyone exploring the city. This historic district is a living museum, where you can stroll through charming cobblestone streets lined with beautifully preserved colonial architecture. Some highlights of Old Havana include:
Read Also : Delta airlines flights
1. Plaza de la Catedral:
Start your exploration at the stunning Plaza de la Catedral, home to the Havana Cathedral, one of the most beautiful Baroque structures in the Americas.
Admire the surrounding colonial buildings with their colorful facades, many of which house art galleries, shops, and cafes.
2. Plaza Vieja:
Plaza Vieja is a lively square surrounded by colorful buildings and a great place to soak up the local atmosphere.
Explore the artisan markets, galleries, and cafes in the area, and don't forget to try some Cuban coffee.
3. Castillo de la Real Fuerza:
This historic fortress houses the Museum of Navigation, offering insights into Cuba's maritime history.
The castle itself is an architectural marvel and provides panoramic views of the city from its watchtower.
4. Calle Obispo:
Stroll down Calle Obispo, a bustling pedestrian street filled with shops, bars, and street performers.
Stop by La Bodeguita del Medio for a mojito, a favorite haunt of Ernest Hemingway.
El Malecon:
The Malecón, Havana's famous seaside promenade, is an iconic symbol of the city. It stretches for 8 kilometers along the coast and is a great place to take a leisurely walk, especially in the early evening when locals and tourists gather to enjoy the sunset. You can also witness the majestic waves crashing against the seawall, creating a dramatic scene.
Vedado:
Vedado is a modern and vibrant neighborhood known for its nightlife, theaters, and cultural venues. Here are some places to explore in Vedado:
5. Hotel Nacional de Cuba:
This historic hotel has hosted countless famous guests over the years and offers a glimpse into Havana's glamorous past.
Visit the garden terrace for a fantastic view of the Malecón and the sea.
6. John Lennon Park:
A quirky and charming tribute to the famous Beatles member, this park features a bronze statue of John Lennon sitting on a park bench.
It's a tranquil spot to relax and enjoy a moment of reflection.
7. Fabrica de Arte Cubano (FAC):
The FAC is a multidisciplinary arts center housed in a converted cooking oil factory.
It's a hub for contemporary Cuban art, music, and performance.
Vedado Cemetery:
The Colon Cemetery in Vedado is not only a burial ground but also an open-air museum of art and history. The grand mausoleums and elaborate tombstones make it a unique and somewhat eerie attraction worth exploring.
Revolution Square :
Revolution Square is an iconic site in Havana, known for its historical and political significance. The square is dominated by the towering José Martí Memorial, honoring a Cuban national hero. It's a place where many important political events and rallies have taken place, and you can't miss the huge portraits of Che Guevara and Camilo Cienfuegos on the surrounding buildings.
Museo Nacional de Bellas Artes :
Art enthusiasts will appreciate a visit to the National Museum of Fine Arts, which houses an extensive collection of Cuban art spanning several centuries. The museum also features international art, making it a comprehensive cultural experience.
Malecon 663:
For a taste of contemporary Cuban cuisine, head to Malecón 663, a trendy restaurant in Vedado. The food, presentation, and ambiance are top-notch, offering a delightful culinary journey through Cuba's flavors.
Fusterlandia:
Fusterlandia is a unique and colorful art project in the Jaimanitas neighborhood, created by artist José Fuster. The entire neighborhood is adorned with mosaic tiles and sculptures, creating a whimsical and imaginative atmosphere. It's a fascinating place to explore and a testament to the power of art to transform communities.
Hemingway's Haunts:
Ernest Hemingway spent many years living in Cuba and left a lasting mark on the country's cultural history. While in Havana, you can visit some of his favorite spots:
8. Finca Vigia :
This beautiful house, where Hemingway lived for 20 years, is now a museum showcasing his life and work.
You can see his personal belongings, including his fishing boat, Pilar.
9. La Floridita:
Known as the birthplace of the daiquiri, La Floridita is a legendary bar frequented by Hemingway.
Try a classic daiquiri here and soak in the atmosphere.
Salsa Music and Dance:
Havana is synonymous with salsa music and dance. Don't miss the opportunity to experience the vibrant rhythms and energy of Cuban salsa. You can catch live performances at various clubs and dance the night away with locals.
Cuban Cigars:
Cuba is renowned for its cigars, and Havana is the epicenter of cigar culture. Visit a tobacco farm in the Vuelta Abajo region, where the world's finest tobacco is grown, and learn about the cigar-making process. You can also purchase authentic Cuban cigars from reputable shops in Havana.
Read Also : Book Cheap flight Ticket
Playas del Este:
If you need a break from the city buzz, head to the beautiful Playas del Este, a string of beaches located just a short drive from Havana. Relax on the sandy shores, swim in the warm Caribbean waters, and enjoy a taste of paradise.