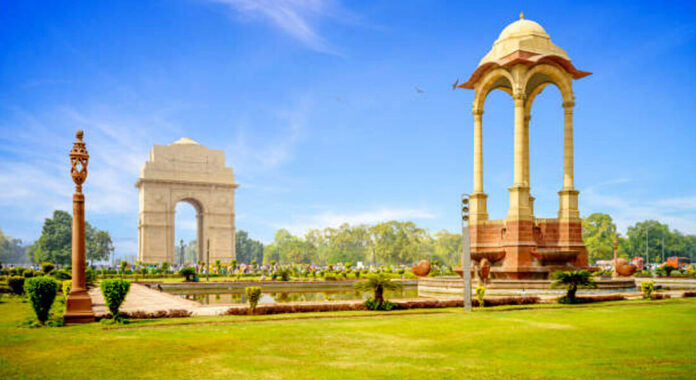 Delhi, the capital city of India, never fails to surprise travellers. The grand India Gate commands attention, while the Red Fort exudes its historic charm. And oh, the street food! From lip-smacking Chole Bhature to zesty Chaat, your taste buds are in for a treat. If you've got a day to spend in Delhi, here's your action plan.
Morning – Embrace History and Heritage
Begin your day early by immersing yourself in Delhi's rich history and heritage. Head straight to the iconic Red Fort, a UNESCO World Heritage Site that stands as a testament to India's Mughal past. Don't miss the sound and light show that narrates the fort's history.
Next, head to Jama Masjid, nestled in the charming streets of Chandni Chowk, this historical monument is a hidden gem. Constructed by Shah Jahan in 1656, this mosque was meant to be the emperor's main place of worship. You can easily lose yourself in its beauty for a good part of the day. Moreover, the tranquillity surrounding the mosque will help you release all the tiredness of your Pune to Delhi flight journey.
Midday –Go on a Gastronomic Adventure
Delhi is renowned for its culinary diversity, and no visit is complete without savouringits delectable street food. Head to Chandni Chowk first, one of Delhi's oldest and busiest markets for an authentic food journey. Treat your taste buds to local favouriteslike Parathas at ParantheWaliGali, Chaat at Natraj, and Sweets at Ghantewala.
Afternoon – Modern Marvels and Cultural Gems
As the day progresses, shift your focus to New Delhi where modern marvels and cultural gems await. Visit the India Gate, an iconic war memorial that honourssoldiers who sacrificed their lives during World War I. Take a stroll around the beautifully landscaped India Gate complex and enjoy the lush green lawns which offer a serene escape from the city's hustle and bustle.
Adjacent to India Gate lies the Rashtrapati Bhavan, the official residence of the President of India.
End your afternoon with a visit to Humayun's Tomb, another UNESCO World Heritage Site, and a precursor to the majesty of the Taj Mahal. The serene gardens and intricate design will provide youwith a peaceful atmosphere for contemplation.
Evening – Retail Therapy and Cultural Extravaganza
Wrap up your day with a dose of retail therapy at Dilli Haat, an open-air market that showcases traditional handicrafts and culinary delights from various Indian states. Pick up souvenirs, textiles, and artwork to take back home. On your Delhi to Pune flight journey reminisce the fond memoriesof your whirlwind Delhi experience.
As the sun begins to set, head to Akshardham Temple, a modern architectural marvel that pays tribute to centuries-old Indian craftsmanship and spirituality. Explore its intricately carved halls, and mesmerizing exhibitions, and don't forget to take the captivating boat ride that takes you through India's cultural heritage beautifully.
While a single day may seem insufficient to truly unravel the beauty and depth of Delhi, you can certainly make the most of your short trip by strategically planning your itinerary. So, make your visit a truly memorable one and keep coming back for this itinerary for your future travel to Delhi.