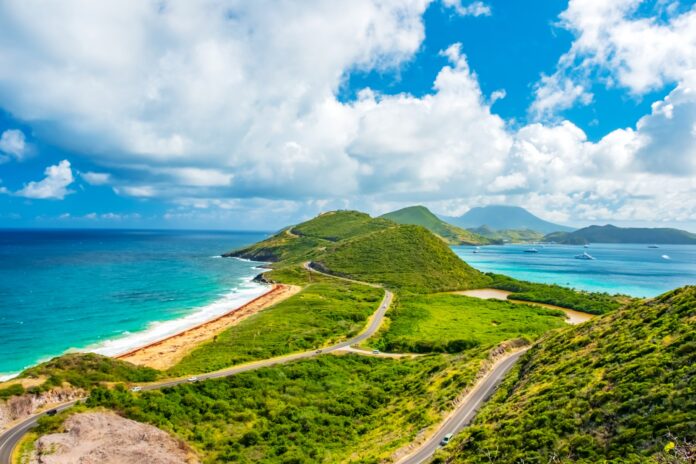 Saint Kitts is a breathtakingly beautiful island that offers a perfect blend of natural beauty, rich history, and vibrant culture. Known for its lush landscapes, pristine beaches, and warm hospitality, Saint Kitts .
Brimstone Hill Fortress National Park:
Our journey begins with a visit to the Brimstone Hill Fortress National Park, a UNESCO World Heritage Site and one of the most iconic landmarks on the island. Perched atop a volcanic hill, this 18th-century fortress offers panoramic views of the Caribbean Sea and neighbouring islands. Explore the well-preserved fortifications, cannons, and historical exhibits, and gain insight into the island's colonial history.
Read Also: Delta airlines Flight
The Scenic Railway:
For a unique way to experience Saint Kitts' beauty, hop aboard the St. Kitts Scenic Railway. This narrow-gauge railway takes you on a 30-mile journey around the island, offering breathtaking views of the coastline, sugar cane fields, and lush rainforests. As you relax in the comfortable railcars, enjoy the informative narration and sip on local drinks. It's a delightful way to immerse yourself in the island's natural splendour.
Cockleshell Beach:
Cockleshell Beach is a haven for beach lovers. Located on the southeastern tip of the island, this pristine beach boasts powdery white sand and crystal-clear waters. It's an ideal spot for sunbathing, swimming, and water sports like snorkelling and paddleboarding. Don't forget to visit the famous Reggae Beach Bar and enjoy a delicious Caribbean meal with your toes in the sand.
Black Rocks:
Nature enthusiasts and geology buffs will find Black Rocks to be a fascinating stop. This geological wonder is a field of volcanic rocks and boulders formed by ancient lava flows. The contrast between the dark rocks and the blue ocean is striking, making it a perfect spot for stunning photographs. Be sure to explore the nearby hiking trails and admire the unique formations.
Romney Manor and Caribelle Batik:
Step back in time with a visit to Romney Manor, a historic estate surrounded by lush gardens. Within the manor, you'll find Caribelle Batik, a workshop and boutique where artisans create vibrant batik textiles. Take a guided tour to learn about the batik-making process and shop for unique, handcrafted souvenirs. The gardens themselves are a tranquil oasis, perfect for a leisurely stroll.
Mount Liamuiga:
For adventure seekers and hikers, Mount Liamuiga is a must-visit destination. This dormant volcano stands as the highest peak on the island, offering a challenging but rewarding trek. The hike takes you through lush rainforests and eventually to the summit, where you'll be greeted by breathtaking views of the crater. It's an unforgettable experience for those who love outdoor exploration.
Independence Square:
Experience the heart of Saint Kitts' capital, Basseterre, at Independence Square. This historic square is surrounded by colourful colonial-style buildings and is home to the Berkeley Memorial Clock, a prominent landmark. It's a great place to soak in the local atmosphere, watch a cricket match, or simply relax on one of the benches.
Fairview Great House and Botanical Garden:
History and nature converge at the Fairview Great House and Botanical Garden. Explore the beautifully restored plantation house, which offers insights into the island's colonial past. Then, meander through the lush gardens featuring a diverse collection of tropical plants and flowers. It's a tranquil escape that provides a glimpse into the island's natural beauty.
South Friars Bay:
If you're looking for a quieter and more secluded beach experience, head to South Friars Bay. This serene beach is flanked by lush hills and offers a tranquil escape from the crowds. You can swim, snorkel, or simply unwind on the soft sands. The beach is also home to some charming beach bars where you can savour local cuisine and cocktails.
Read Also : Deals for Flight
National Museum of Saint Kitts:
Wrap up your Saint Kitts adventure with a visit to the National Museum, located in the heart of Basseterre. This museum showcases the island's history, culture, and heritage through a collection of artifacts, exhibits, and interactive displays. It's an educational and enlightening experience that provides valuable context to your journey.