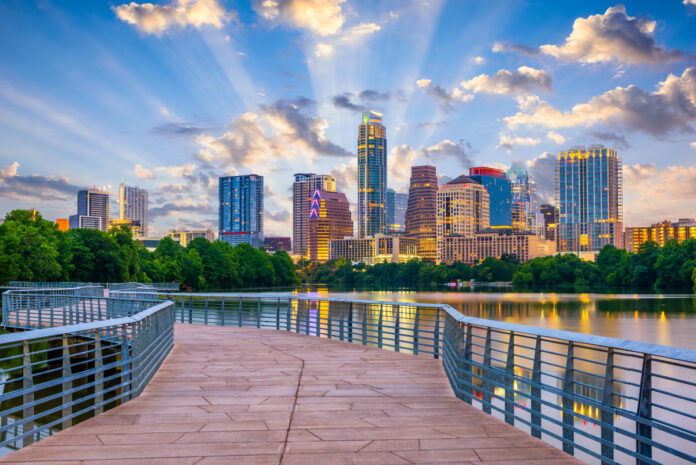 Austin, Texas Known for its live music scene, delicious food, and unique culture, Austin is a city that offers something for everyone.
1. The Texas State Capitol:
Start your Austin adventure with a visit to the Texas State Capitol. This stunning building is not only an architectural marvel but also a significant piece of Texas history. Take a guided tour to learn about the state's political history, or simply wander through the beautiful grounds and admire the impressive dome. Don't forget to snap a photo on the south steps, a popular spot for both tourists and locals.
Read Also : Allegiant airlines flights
2. Barton Springs Pool:
Cool off from the Texas heat at Barton Springs Pool. This three-acre natural spring-fed pool is a popular spot for swimming and sunbathing. Surrounded by lush greenery, it's the perfect place to relax and soak up the Austin vibes. The pool maintains a refreshing temperature of around 68 degrees Fahrenheit year-round, making it an ideal spot for a dip, no matter the season.
3. South Congress Avenue :
South Congress Avenue, affectionately known as SoCo, is a trendy and eclectic neighbourhood that offers a unique Austin experience. Stroll down the avenue to explore a variety of boutique shops, vintage stores, and art galleries. Don't miss the vibrant street art murals, including the famous "Greetings from Austin" mural, which is perfect for an Instagram-worthy photo op.
4. The University of Texas at Austin:
Take a walk through the picturesque campus of The University of Texas at Austin. Founded in 1883, this prestigious institution is known for its academic excellence and stunning architecture. The Tower, a prominent campus landmark, offers breathtaking views of the city from its observation deck. While you're there, visit the Harry Ransom Center, which houses an impressive collection of rare books, manuscripts, and art.
5. Zilker Park:
Zilker Park is a 350-acre urban oasis that offers a wide range of activities for outdoor enthusiasts. Whether you're picnicking, hiking the Barton Creek Greenbelt, kayaking on Lady Bird Lake, or attending a concert at the Zilker Hillside Theater, there's something for everyone in this beautiful park. Be sure to visit during the spring when the fields are carpeted with vibrant wildflowers.
6. Lady Bird Lake:
Named after former First Lady Lady Bird Johnson, this serene lake is a central feature of Austin. Rent a kayak or paddleboard and explore the tranquil waters while taking in views of the downtown skyline. The Ann and Roy Butler Hike-and-Bike Trail, which encircles the lake, is a favorite among joggers and cyclists. Keep an eye out for the famous Congress Avenue Bridge bats, which take flight at sunset from March to November.
7. The Blanton Museum of Art:
Art enthusiasts will appreciate the Blanton Museum of Art at The University of Texas at Austin. This impressive museum boasts a diverse collection of over 18,000 works of art, ranging from European paintings to contemporary pieces. Be sure to check out Ellsworth Kelly's "Austin," a breathtaking installation that combines art, architecture, and nature.
8. Rainey Street Historic District:
For a unique nightlife experience, head to Rainey Street Historic District. This charming neighbourhood is known for its bungalow-style houses that have been transformed into quirky bars and food trucks. Sample craft beers, savour local food truck cuisine, and enjoy the relaxed atmosphere that makes Rainey Street a favourite among locals and visitors alike.
9. The Contemporary Austin:
Located on the shores of Lake Austin, the Contemporary Austin – Laguna Gloria is a stunning museum that combines art and nature. Explore the beautifully landscaped grounds and discover outdoor sculptures while taking in scenic views of the lake. The museum also features rotating exhibitions of contemporary art, making it a must-visit for art lovers.
10. Mount Bonnell:
For one of the best panoramic views of Austin, hike up Mount Bonnell. This natural landmark offers a breathtaking vista of the city, Lake Austin, and the surrounding Hill Country. It's especially popular at sunset when you can watch the city light up. The short hike to the summit is well worth the effort for the stunning photo opportunities.
11. The Broken Spoke:
Experience the heart and soul of Texas at The Broken Spoke, Austin's iconic honky-tonk dancehall. This legendary venue has been hosting live country music and dancing for over 50 years. Put on your dancing boots and two-step the night away while enjoying some of the best live music in town. It's a quintessential Texas experience you won't want to miss.
12. Food Truck Culture:
Austin's food truck scene is a foodie's paradise. From mouthwatering barbecue to gourmet donuts, you'll find a wide variety of culinary delights on wheels throughout the city. Sample some of the best tacos at Veracruz All Natural or indulge in inventive flavors at Gourdough's Donuts. Be sure to try a breakfast taco, a local favorite that's perfect any time of day.
13. The Greenbelt:
The Barton Creek Greenbelt, often referred to simply as "The Greenbelt," is a nature lover's paradise within the city limits. Explore miles of hiking and mountain biking trails, and cool off in the many natural swimming holes. Sculpture Falls and Twin Falls are popular spots for a refreshing dip. With its lush vegetation and clear waters, The Greenbelt offers a peaceful escape from the city.
Read Also : allegiant airlines book a flight
14. East Austin:
East Austin is a vibrant neighbourhood known for its diverse culture and artistic spirit. Explore the eclectic East Side murals and street art, then dive into the local art scene by visiting galleries like Canopy Austin. This neighbourhood is also a culinary hotspot, with a wide range of restaurants serving everything from barbecue to vegan cuisine.