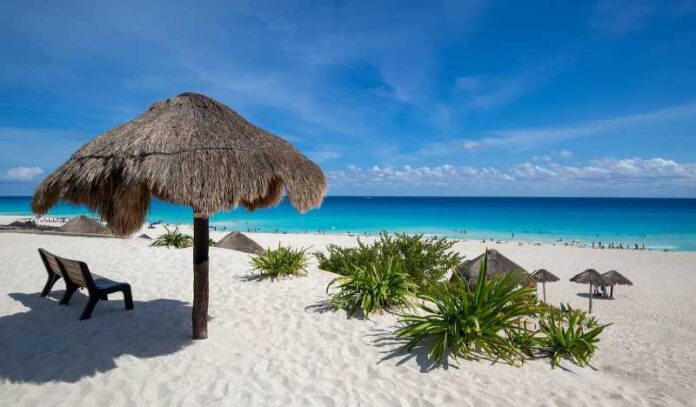 Cancun, a coastal gem nestled along the shores of the Yucatan Peninsula in Mexico, is a destination that needs no introduction. Known for its stunning turquoise waters, pristine white sand beaches, and vibrant nightlife, Cancun offers a captivating blend of natural beauty, cultural richness, and modern indulgence.
1. Playa Delfines: Bask in Nature's Glory
Begin your Cancun adventure at Playa Delfines, a beach that perfectly encapsulates the region's natural beauty. Also known as "Dolphin Beach," this stretch of coastline boasts powdery sand and mesmerizing views of the Caribbean Sea. It's an excellent spot to sunbathe, swim, and even catch sight of dolphins playing in the water. The iconic "Cancun" sign is located here, making for a fantastic photo opportunity against the backdrop of the sea.
Read Also : Spirit Airlines Pet Policy
2. Chichen Itza: Unraveling Ancient Mysteries
Delve into the rich history of the Yucatan Peninsula by visiting Chichen Itza, a UNESCO World Heritage Site and one of the New Seven Wonders of the World. This archaeological marvel was once the thriving epicenter of the Mayan civilization. Explore the awe-inspiring El Castillo pyramid, also known as the Temple of Kukulcan, and learn about the Mayan calendar, astronomy, and architecture. The equinoxes bring a special spectacle as the sun's shadow creates the illusion of a serpent slithering down the steps of the pyramid.
3. Isla Mujeres:
Escape the hustle and bustle of Cancun's main strip and take a short ferry ride to Isla Mujeres, an island retreat characterized by its laid-back atmosphere and stunning coral reefs. Engage in snorkeling or diving to discover the vibrant marine life that calls these waters home. Rent a golf cart to explore the island's picturesque streets, visit the turtle sanctuary, and soak in the serene beauty that makes Isla Mujeres a true tropical haven.
4. Tulum:
A little over an hour's drive from Cancun, Tulum offers a unique blend of history and beachfront beauty. Explore the Tulum archaeological site, a walled Mayan city perched on a cliff overlooking the Caribbean Sea. Wander through ancient ruins and imagine life in this once-thriving coastal trading post. Afterward, unwind on Tulum's pristine beaches, known for their powdery sand and clear turquoise waters.
5. Xcaret Park:
For a day filled with adventure, culture, and natural wonders, visit Xcaret Park. This eco-archaeological park showcases the diverse facets of Mexican culture and history through various attractions. Swim in underground rivers, interact with local wildlife, and witness breathtaking cultural performances that showcase the traditions of Mexico. The park also has its own beach where you can relax after an eventful day of exploration.
6. Coco Bongo:
Cancun's nightlife scene is legendary, and Coco Bongo stands out as a must-visit entertainment venue. This electrifying nightclub offers a high-energy fusion of music, dance, acrobatics, and live performances that create an immersive and unforgettable experience. Dance the night away and witness impressive shows that pay homage to pop culture icons, making Coco Bongo a nightlife hotspot that's second to none.
Read Also : Spirit Airlines Boarding Pass
7. Xel-Ha Park:
Indulge your inner water enthusiast at Xel-Ha Park, a natural aquatic theme park that's a paradise for snorkelers and water lovers. This ecological haven features an inlet with crystal-clear waters where you can snorkel alongside vibrant fish and explore underwater caves. You can also enjoy a lazy river float, cliff jumping, and lush jungle trails that highlight the region's biodiversity.
8. Mercado 28:
Immerse yourself in Cancun's local culture by visiting Mercado 28, a bustling market where you can shop for traditional Mexican handicrafts, souvenirs, and artwork. This vibrant marketplace also offers a variety of street food stalls and restaurants where you can savor authentic Mexican flavors. From handwoven textiles to intricate ceramics, Mercado 28 is a treasure trove of unique finds.