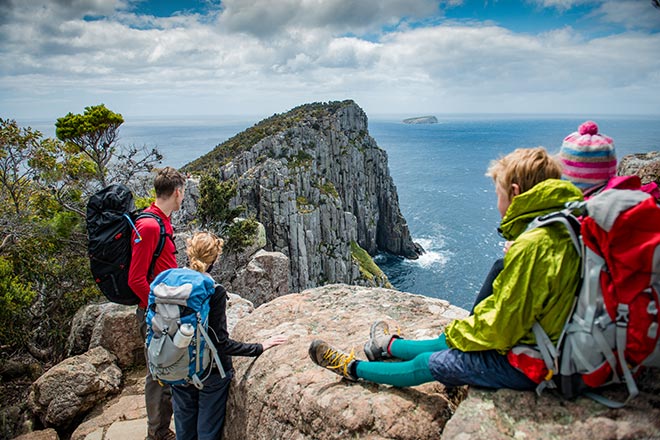 Tasmania is a treasure trove for avid hikers looking to immerse themselves in the natural landscape of this Australian island state. The Three Capes Track, covering a staggering 48 kilometres, is one of the few paths on earth that has retained its remote and untouched magnetism.
Located in the southeast of the Tasman National Park, the pathway weaves in and out of the heathland and introduces travellers to remarkable rainforests and astonishing cliffside views of the Three Capes: Cape Pillar, Cape Hauy and Cape Raoul.
The multi-day track spans many different forms of terrain, from the boardwalk to stone steps, with accommodations in three picturesque locations to make this journey feel more luxurious than your average hike. The one-way walk offers self-guided or guided options and a restriction on the number of hikers permitted on the Three Capes Track per day to give travellers a more intimate experience of the area.
How to reach the start of the Three Capes Track
Port Arthur Historic Site marks the starting and end point of the track. You will begin the Three Capes Track by taking a two-hour boat cruise from the Port Arthur jetty to Denmans Cove and end with a 30-minute bus ride back to Port Arthur from Fortescue Bay.
Here are the travel options available for travellers to get you to and from the Three Capes Track.
The closest airport to Port Arthur is Hobart International Airport. By car, this point is approximately eight kilometres.
Travelling to Port Arthur by car from the following location varies in duration: Hobart to Port Arthur is approximately 1.5 hours, and Launceston to Port Arthur is about 3.5 hours.
If you are unable to drive, there are alternative arrangements you can make with coach services or a taxi/Uber service. We recommend researching local bus routes leaving your arrival and destination and expected costs.
Booking your hike on the Three Capes Track includes a daily bus transfer from Fortescue Bay to Port Arthur Historic Site.
What you can expect on the Three Capes Track
Tasmania is often referred to as the 'gateway' to Antarctica, which means the chances of the weather being a little cooler than the mainland is almost guaranteed. For this reason, it is important to pack warm, waterproof clothing for unexpected weather changes. Other hiking essentials include water, food, sturdy hiking boots, toiletries, clothing, sleeping supplies, and a phone charger. It is worth noting that supplies are dependent on your chosen accommodations because many of the lodges/huts provide only some essentials during your stay.
In addition, it is wise to condense your belongings to prevent fatigue from carrying your backpack for around four hours daily over four days. Although this track is considered moderate in terms of difficulty, it does require endurance. Be prepared for long days of walking, take lots of breaks, and enjoy the scenery.
What is included in your pass
Booking your pass to travel along the Three Capes Track will include the following:
Park entry to the Tasman National Park and an Official Pass for the trail
Two years valid entry to Port Arthur Historic Site, and parking and secure locker storage during your trip
A seat on the Pennicott Wilderness Journeys cruise, which departs twice daily
Three nights' accommodations in huts along the track (self-catered)
Bus transport from the end of the track (Fortescue Bay) to the beginning (Port Arthur Historic Site), which departs twice daily
Travellers also receive a guidebook and a map
There are also guided options through private tour companies,which cost more than a self-guided journey, but provide travellers with an all-inclusive private accommodations.
Three Capes Huts
For those that have chosen the self-guided travel option, three different cabins will be your accommodations throughout your trip. These spaces have shared dorms, kitchen areas, and bathroom facilities. The huts are well-maintained and equipped with a range of amenities. A host ranger will greet hikers as they arrive, provide information about the hut and area, and remain overnight. If you are looking for a Three Capes track self-guided walking company, Auswalk provide an excellent option with a long history in this market.
Day One – The Surveyors Hut
The first stay on your journey is at the Surveyors Hut. The accommodations offer ocean views from the expansive deck, communal sleeping and kitchen areas, and an outdoor barbeque area. The hut is large enough to give travellers space among other guests.
Day Two – The Munro Hut
The second stay on your journey is at the Munro Hut. The accommodationsare separated into two buildings, the kitchen and sleeping quarters. As you arrive, you will notice the sweeping views of the ocean from the deck and helipad, and this is the only stay with a hot outdoor shower.
Day Three – The Retakunna Hut
The third stay on your journey is at the Retakunna Hut. This stay is separated into two buildings, the indoor and outdoor kitchen and sleeping lodgings, and the toilet that is a short distance from the hut. This hut is hidden among the gum trees, offering a glimpse of the native residents.
Amenities
Facilities and supplies you can expect during your stay (though they may not be availableacross all three cabins) include:
Indoor and outdoor kitchens, with cooktops and a range of cooking equipment (excluding fridges and microwaves)
Cooking utensils (excluding cutlery, plates/bowls, and cups)
Rainwater
USB charging ports
Heating and lighting in the shared area
Toilet facilities
Memory foam mattresses in the dorms
Outdoor shower (Munro Cabin only)
Explore the Tasman Coast and witness the magnitude of the landscape surrounding you along the Three Capes Track. Each day offers travellers a glimpse into the beauty that exists in the form of a coastline, the flora of a rainforest, and the songs of the animals and birds that call this place home.
When travelling to this beautiful island state, set aside four days and explore one of the world's most remarkable natural pathways.
FAQs
How to Book the Three Capes Track
Visit the National Parks website to book to walk the Three Capes Track. During the booking process, you must provide your start date, number of hikers, and pay through credit cards—Mastercard or Visa. A confirmation email with your booking details and a brochure for the track will arrive shortly after.If you are looking for private tours, please note that these can be found on independent websites. Whether self-guided or group-guided tours is the preference, we would recommend Auswalk for this tour.
2. How Much Does the Three Capes Track Cost?
The cost of the Three Cape Track depends on whether you have selected a self-guided or guided tour. The fee for the former for an adult is $495, at concession is $396, and for a child $396 (including the Tasman National Park pass). Guided tours through private companies can range from upwards of $1,000, depending on your chosen duration and provider.
3.Can You Hike the Three Capes Track for Free?
Although there isn't an option to walk the entire track for free, there is a 'Free Capes Track', which will lead you to two out of the three capes. Remember that the Tasman National Park pass will still need to be purchased for entry into the park.
This route will start and end in Fortescue Bay and require two to three days to complete, with hikers needing to provide their own accommodations (such as tents, swags, etc.).
4.How Hard is the Three Capes Walking Track?
This track is graded 'easy to moderate' in difficulty level but requires endurance as each day has an average of four hours of walking and a total distance of approximately 48 kilometres to cover. We advise making stops along the way to conserve energy and ensure you feel physically prepared before booking your pass.