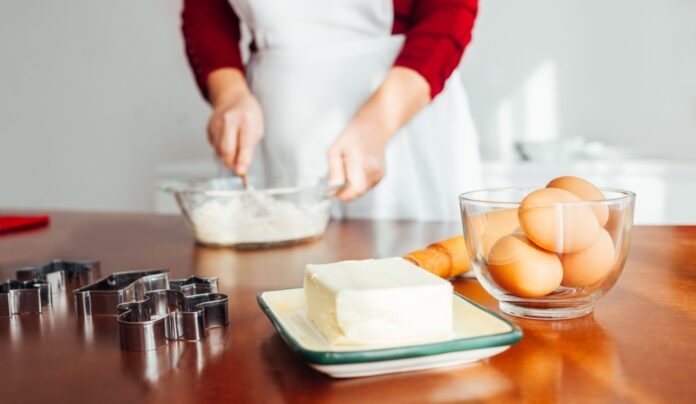 The holiday season is just around the corner and we cannot keep calm! It is officially the season of hot chocolate, cinnamon desserts and cuddles. Do you find yourself in the same predicament every year where you start baking your favourite treats only to realise later that you don't have an ingredient or two? Stock up your pantry today with winter holiday baking staples so that you can whip up a cup of hot chocolate in the wee hours of the morning without having to make a grocery trip.
Overwhelmed with the plethora of baking supplies available in the market today? Lucky for you, we have got you covered. We bring to you a carefully curated list of 9 essential ingredients which are a must-have pantry essential this festive season.
Flour
Whether you are planning to prepare dinner rolls or desserts, you will need flour to prepare your Christmas dinner. Not a big fan of refined flour? Ditch them and opt for Aashirvaad Atta instead. Bring home a pack of Aashirvaad Atta and make your recipes more wholesome and delicious. You can make apple cake, carrot cake, strawberry muffins and many more lip-smacking desserts using wheat flour with ease.
Cocoa Powder
You can never have too much cocoa powder in the winter season. Cocoa powder is a must-have baking essential as you can use them to prepare cakes, smoothies, pancakes, brownies and hot cocoa. Invest in a good quality cocoa powder which will add a rich flavour of chocolate to your favourite holiday desserts.
Chocolate
Stock up on chocolate bars as you can munch on them while you are waiting for your desserts to get baked or add them to your cheesecakes, cupcakes and milkshakes to give them a unique and delightful crunch. Grab Fabelle's luxury chocolate bars which are so rich and decadent that they will leave you in a sugar daze.
Butter
Make sure that you stock up your pantry with a block or two of fresh butter as old butter stored in the refrigerator can affect the fluffiness and softness of your cake and ruin even the colour of your dessert. Remember to wrap your leftover butter properly and store them in a freezer to prevent them from going rancid.
Spices
You would be surprised how spices like ginger, clove and cinnamon play a crucial role in bringing out the flavours in homemade desserts. Add a pinch of cinnamon in your hot cocoa or ginger in your cookies, pies or fudges and make them taste better.
Baking Soda & Baking Powder
These two ingredients are a no-brainer if you are planning to go all out and whip up a hearty meal this Christmas. Check if you already have these ingredients in your kitchen and replace them if they have expired.
Coffee
Though most of us always have coffee in our pantry, in case you have emptied your coffee jar, then refill it before you start your baking project. Just like spices, a pinch of coffee in your chocolate desserts goes a long way. A tinge of coffee flavour in your chocolate drinks, cakes and milkshakes will take your desserts to the next level. You can add Sunbean Beaten Coffee, which is a rich and creamy instant coffee paste to your desserts. This will leave your kitchen smelling like a coffee shop and give your desserts a distinctive taste of coffee.
Extracts
While we all know that vanilla extract is a must-have baking staple, you can also consider giving peppermint extract a try this year. Want to make your chocolate cupcakes or cookies taste refreshing? Why not add a little peppermint extract to your dessert mixes and awaken your tastebuds?
Nuts
People who love nutty desserts must stock up on pecans, walnuts, pistachios, cashews, almonds and raisins before starting their holiday baking. You can add them to your tarts, brownies, cookies and pies and give your desserts a crunchy and earthy flavour and make you feel warm and cosy.
So, do you have a secret holiday baking ingredient that you swear by? Sceptical about making chocolate cookies from the scratch? You can buy a few boxes of Dark Fantasy biscuits and serve them to your guests on a chocolate platter or binge on them while you watch your favourite holiday movie.